With our headquarters in São Paulo - Brazil and our agents here and abroad, we actively work in the air, sea and truck shipping (domestic and international).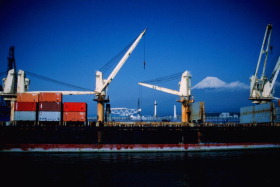 .
Maritime Modal – can meet the coasting-trade requirements and long distance services (The U.S., Europe, Mercosur, Africa, Chile, Peru, Mexican Gulf and Far East) in thirteen Brazilian ports : Rio Grande (RS), Itajaí (SC), São Francisco do Sul (SC), Paranaguá (PR), Santos (SP), Sepetiba (RJ), Rio de Janeiro (RJ), Salvador (BA), Suape (PE), Fortaleza (CE), Pecem (CE), Belém (PA) and Manaus (AM).

Air Modal – we meet the domestic and international freight shipping needs in major airports in Brazil and abroad through partnerships with top airlines and also with EADI. We do all this ensuring, speed, security and punctuality for your businesses.